While you are canning all your yummy fresh veggies like carrots, beans, and potatoes you definitely want to take a little time to can up things like this delicious canned apple pie filling. It can be used of course as filling for a homemade apple pie and also warmed up to top pancakes, waffles, ice cream, and more.  I put my new pressure cooker to use on this one and had 4 pints of apple pie filling ready in no time to put up in my pantry. This makes a fantastic hostess gift for Thanksgiving or as a Chrismas gift tucked into a basket with a pretty pie pan and a dish towel.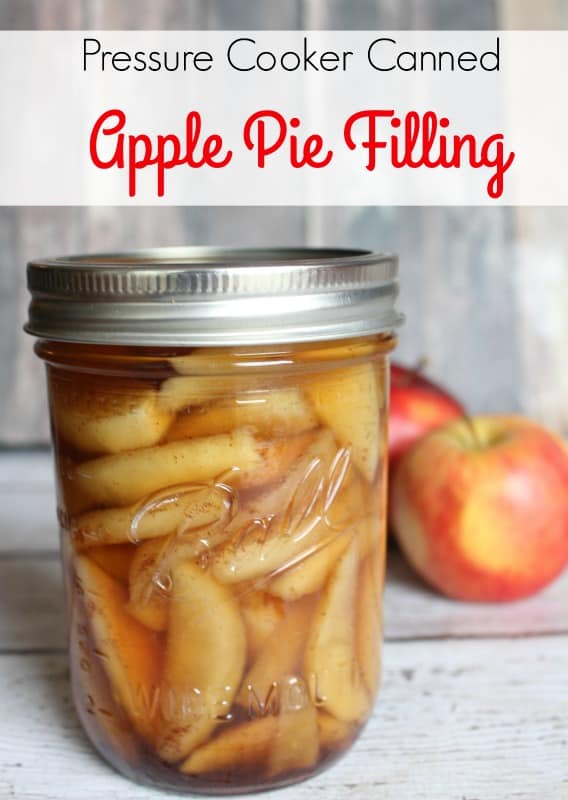 Ingredients for Canned Apple Pie Filling
3 lbs. apples
2 cups brown sugar
1/3 cup cornstarch
1 T. Lemon juice
3 tsp. cinnamon
1 tsp. nutmeg
1/2 tsp. salt
5 cups of water
3 or 4 -quart canning jars
Directions for Canned Apple Pie Filling
Peel apples and cut into slices or chunks, however you prefer.
Fill jars with apple slices.
Place apples, lemon juice,  and water in a large pot, bring to a low boil.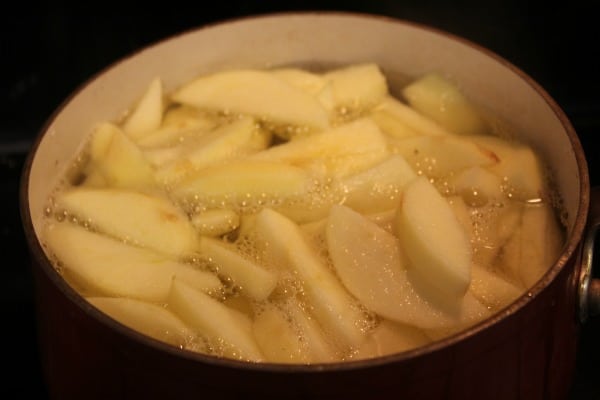 Stir in cornstarch, brown sugar, nutmeg, cinnamon, and salt, simmer for 5 minutes. Since I use it for a variety of things I don't put quite as much cornstarch to thicken the syrup as traditional pie filling usually calls for, if you prefer a thick filling you can increase to half a cup.
Pour mixture into clean sterilized canning jars, leaving 1″ of headspace.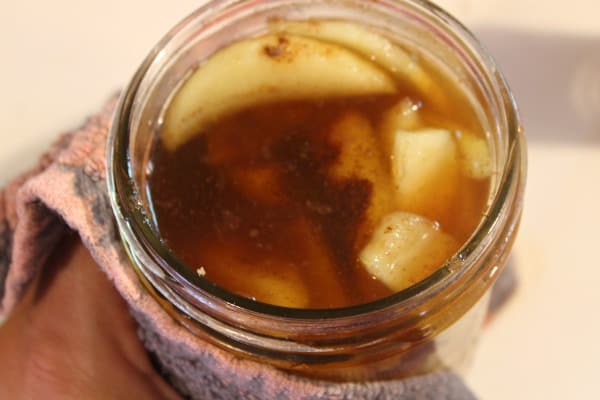 Wipe rim with a clean damp cloth, secure new lid and ring tightly.
Place jars in a water bath for 20 minutes or in a pressure cooker for 10 minutes.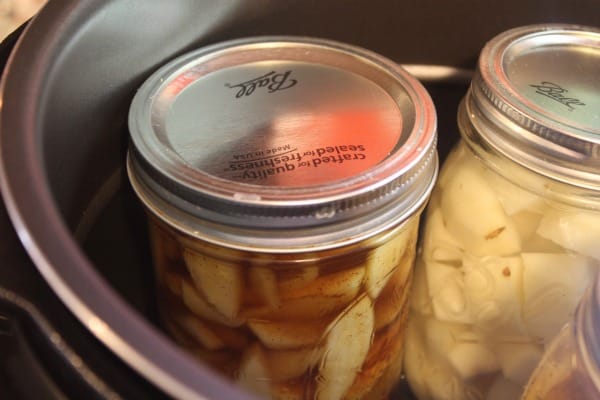 Remove from heat and place on a dish towel (a cool counter might crack hot jars).
Once cool be sure that they have sealed then add to your canned goods in the pantry and enjoy as you wish!
1 quart of apples fills a 9″ pie pan.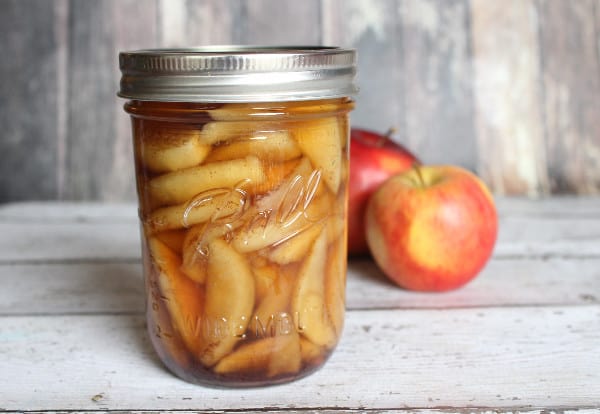 You can easily make this sugar free by switching the brown sugar out for brown sugar Splenda.
This Canned Apple Pie Filling would go great in my Skinny Mini Apple Pies. You can use the peelings and cores to make Homemade Apple Cider Vinegar