While you are canning all your yummy fresh veggies like carrots, beans, and potatoes you definitely want to take a little time to can up things like this delicious homemade apple pie filling recipe.
This canned apple pie filling would go great in a Homemade Apple Pie.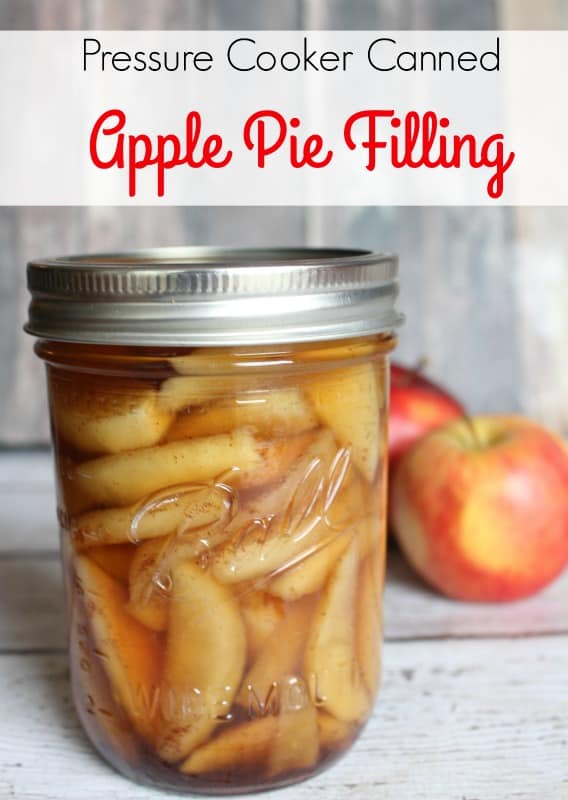 I put my new pressure cooker to use on this one and had 4 pints of apple pie filling ready in no time to put up in my pantry. This makes a fantastic hostess gift for Thanksgiving tucked into a basket with a pretty pie pan and a dish towel.
How do you make Apple Pie Filling
3 lbs. apples
2 cups brown sugar
1/3 cup cornstarch
1 T. Lemon juice
3 tsp. cinnamon
1 tsp. nutmeg
1/2 tsp. salt
5 cups of water
3 or 4 -quart canning jars
How to can Apple Pie Filling without Clear Jel
Peel apples and cut into slices or chunks, however you prefer.
Fill jars with apple slices.
Place apples, lemon juice, and water in a large pot, bring to a low boil.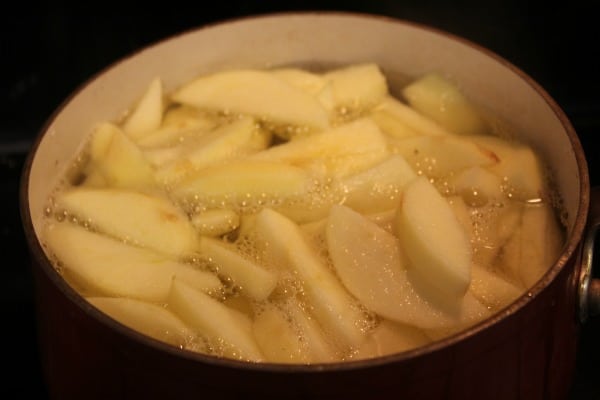 Stir in cornstarch, brown sugar, nutmeg, cinnamon, and salt, simmer for 5 minutes. Since I use it for a variety of things I don't put quite as much cornstarch to thicken the syrup as traditional pie filling usually calls for, if you prefer a thick filling you can increase to half a cup.
Pour mixture into clean sterilized canning jars, leaving 1" of headspace.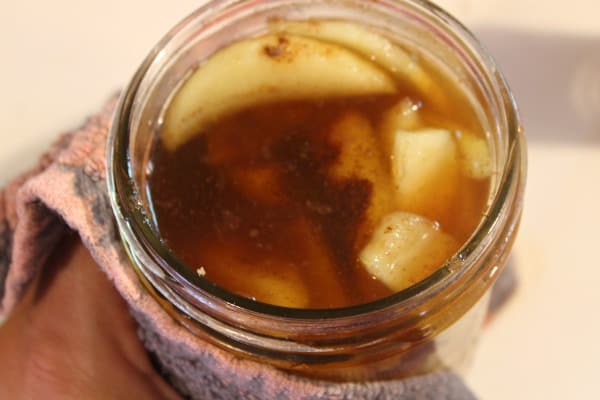 How do you water bath can Apple Pie Filling
Wipe rim with a clean damp cloth, secure new lid and ring tightly.
Place jars in a water bath for 20 minutes
You may find that you need to place a towel in the bottom of your pot to sit your jars on.
How do you pressure can Apple Pie filling
Yes, it's rather simple too! Simply, process at 10 lbs of pressure for 10 minutes. Take the jars out and sit them on a towel so you won't risk cracking.
Allow your jars to cool for t least 24 hours. Check to be sure they are sealed and store. If you find one or two did not seal, just put those in the fridge use first.
What can you use homemade apple pie filling for
on top of ice cream
on top of waffles or pancakes
in a cobbler
in Apple Cake
Be sure to check out this Pecan Pie Cobbler recipe too.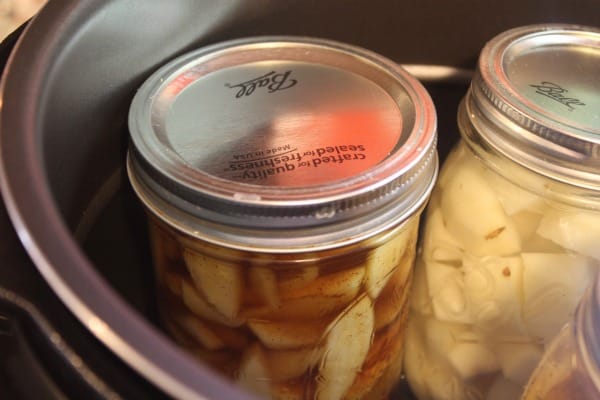 Remove from heat and place on a dish towel (a cool counter might crack hot jars).
Once cool be sure that they have sealed then add to your canned goods in the pantry and enjoy as you wish!
1 quart of apples fills a 9" pie pan.
What are the best apples for apple pie filling
Granny Smith
Honeycrisp
Pink Lady
Golden Declious
Fuji
I think you get the best apple pie filling when you use two different apples. Combining tart and sweet just works well for apple pie filling.
What can I do with apple peels and cores
You can use the peelings and cores to make Homemade Apple Cider Vinegar. It's simple and easy and a great self sufficient living tip.