I am so excited to share with you this Rose Oil Homemade Body Scrub recipe! It's an ideal gift item or a special treat just for yourself. Whether you make this for your sweetheart, or you treat yourself to a special pampering body scrub, you'll love the beautiful scent of this DIY body scrub. You may like these simple sugar scrub recipes too.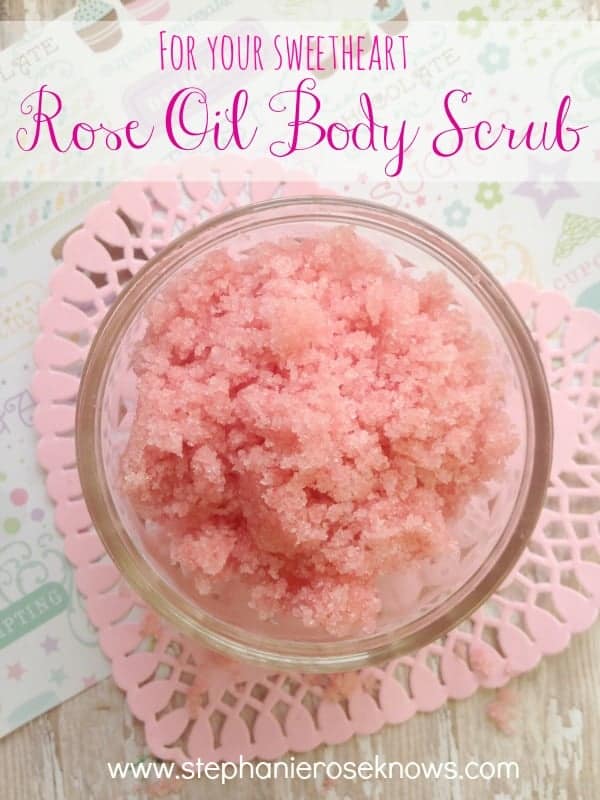 Rose Oil Homemade Body Scrub
Tis the season to think about your sweetheart! Nothing says I love you like Rose Oil Homemade Body Scrub, perfect for getting skin smooth and clean.

You can make your own sweetheart body scrub like the one you see here in just minutes and using items you most likely have on hand. Here is how you can get started crafting your own batch of sweetheart body scrub!
Supplies needed:
1 cup of white sugar
3-5 drops of rose oil
10-12 rose petals, fresh and crushed into bits (We used hot pink. The color you use will influence the color of the scrub!)
Directions:
1. Begin by tearing the rose petals into tiny bits. You can do this by hand or with a knife.
2. In a food processor, mix the above ingredients for 2-3 minutes. You want to blend until it is fully blended, and the rose petals can't be seen.
3. Place the mixture in an air tight container such as a canning jar.
Your sweetheart rose oil homemade body scrub is now ready to be gifted or enjoyed by you!
Related: Hot Chocolate Sugar Scrub
To use, dampen hands and take a small portion of the scrub into your palms. Rub together and apply to skin gently.
Use a circular motion as you apply. Let the scrub sit on the skin for a few minutes before rinsing with warm water.
This Rose Oil homemade body scrub is the perfect treat for your sweetheart! Gather your supplies and try whipping up a batch of your own!
You can put this in a pretty glass jar and add a label and ribbon for gifting, or selfishly keep this all to yourself!
I love using this as a nice way to smooth away stressed skin at the end of the day. It makes it perfect for not only the exfoliating skin but also making your skin smell delicate and nice.