I was so excited for the release of Pete's Dragon. I remember the classic from my childhood and couldn't wait to see what they did with it. I like to try and have something for kids to do pertaining to movie and this Pete's Dragon Playdough Station is perfect for small hands! It was pretty fun for this mommas hands too! It can be used along with any dragon unit study or purely just  for the enjoyment.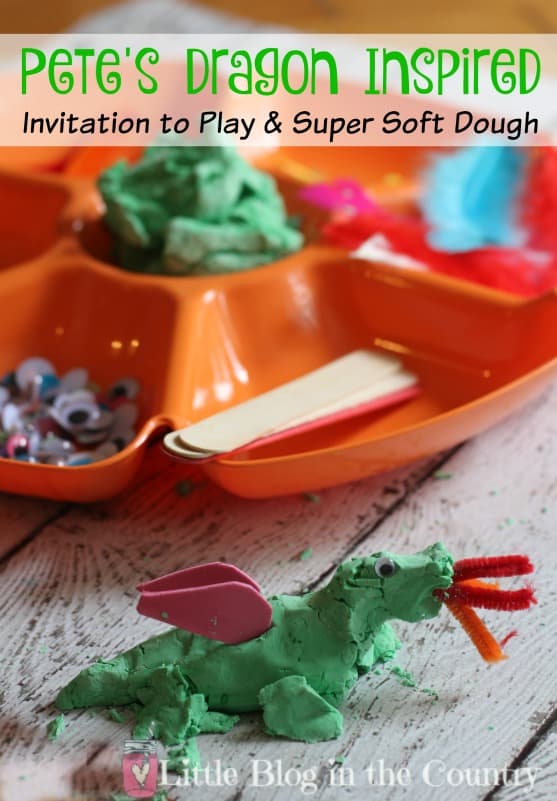 Homemade Playdough Station
The first thing you want to do is make up your playdough, I tried a new soft playdough recipe that has a wonderful texture to it and is super easy to make with just 2 ingredients. Here is the recipe…
You will need:
1 cup cornstarch
1/2 cup hair conditioner
food coloring
Place all ingredients in a large bowl and stir to combine, after the food coloring is somewhat incorporate you are going to want to get in there with your hands and really work it. You may feel you need to add a bit more cornstarch to make it a little less sticky, or more conditioner to moisten it a bit, do this a little at a time until you get a good texture.
The next thing I did to get our Invitation to play station set up was cut out some foam pieces, I cut wings and small pieces of flame for fire breathing dragons.
I added the foam pieces to my divided tray along with the playdough, googly eyes, craft sticks, feathers and pipe cleaners. You can get these big divided trays at Dollar Tree, I keep a couple on hand for various play and projects.
Check out these other playdough recipes to keep little hands busy below!
Homemade White Fir Tree Playdough