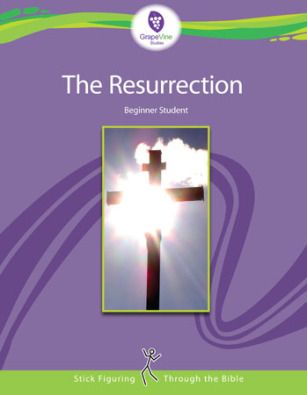 With Easter on the way soon I've been really excited about this review.  We've been working on
The Ressurection from Grapevine Studies
. Mini is such a perfectionist and gets super frustrated when she messes things up that art is simply out of the question right now. But, stick figures are easy and require no perfect pieces, well, except the lines. Lines had to be perfect in a few but that is Life with Mini!
Grapevine Studies has levels for ages 3 to adults. I chose the beginner student level of The Ressurection for Mini. Mini is 12 but has Aspergers and has a hard time understanding "God" because she can't see him or hear him. The higher level include more scripture, memory work, and a few more drawings per pages. The beginner level focuses on the main scripture and story.
What's Included:
Teachers Guide: which has lesson notes, lesson goals, memory verses, and review questions & answers. You can print it out and add it to a binder for easy keeping.
Student Book: which has lessons pages, memory verses, and reviews for you to go over. This can also be printed out and added to a binder.
Student Traceable: just like the Student Book but for younger kids. It already has the stick figures and kids just trace them.
It was easy to use and easy to follow along.  I love having things laid out for me so all I have to do is teach.  You can do the 11 weekly lessons or 22 daily lessons.
Mini was able to learn everything about Jesus' last week on Earth. Starting with the last supper all the way up until Jesus went to Heaven. Each lesson was brought to life by her drawing the images.  We ended each lesson with a few questions to see how much she actually remembered.
I love the simple graphics. I think the Stick Figuring really brings the story to life.  As we went along in the lessons and Mini did the drawings, I could tell she was more engaged in the story. We were both transported to another time, learning about Jesus' last week on Earth.
Overall, the Resurrection is a great lesson to experience with your kids. Our favorite was the stick drawing and the final review questions. The questions allowed me to see how much Mini understood.  By the end of this, she knew the Resurrection story quite well.
Grapevine Studies as so many different studies that you can do.  I'm looking forward to digging in to even more with them.  They are a great addition to our Bible Study.
Grapevine Studies is having a sale this month on The Resurrection. Now is the perfect time to pick it up. You still have time and the lessons will take you right up to Easter. You can get free sample lessons of the different studies.  Be sure to check out the Resurrection sample.  Which shows you the last supper. You can check out the different levels to see which one is the right one for child.
Be sure to check out the other's on the link up. You will find a variety of reviews on different lessons.