This delicious hot chocolate sugar scrub contains just 4 simple pantry ingredients! Try these simple sugar scrubs too.
A good scrub like this will have you wanting to curl up in front of a cozy fire while drinking a cup of hot cocoa. Be warned its heady chocolate scent may put you in a cocoa induced daze. It's the perfect scent for a winter body scrub.
Hot Chocolate Sugar Scrub Benefits
This decadent scrub exfoliates your skin leaving it radiant, while the coconut oil moisturizes and hydrates it.
Cocoa powder contains antioxidants so it's not just in there for the smell good factor, although that's important too!
Vitamin e is also an antioxidant and promotes healing. This would make a lovely gift in a mason jar or other pretty glass airtight container.
Hot Chocolate Sugar Scrub Ingredients
1 cup brown sugar
½ cup white sugar
3 Tbsp. unsweetened cocoa powder
1 tsp. vanilla
½ cup coconut oil
3 vitamin e capsules
How to make hot chocolate sugar scrub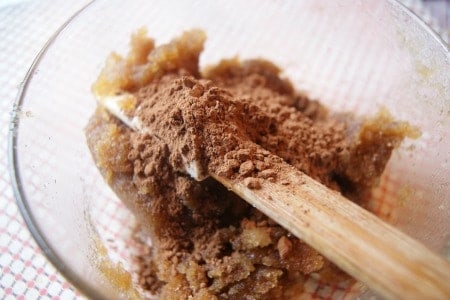 In a medium bowl combine; brown sugar, cocoa powder, vanilla, and coconut oil.
Pierce vitamin e capsules with a pin and squeeze the contents into your mixture, stir until completely incorporated.
How do I store this hot cocoa sugar scrub
If you are know that you will use your hot cocoa sugar scrub up quickly, think 1-2 days, a cute mason jar works well. If you there's a chance you won't use it quickly then store in an airtight container.
How long will this sugar scrub last
I would say 3 weeks would be a good time to make a fresh batch of sugar scrub. This cocoa scrub will probably be gone in 3 days. It's that good.
Can I use a different oil?
Olive oil would be a great alternative but any moisturizing oil will work well in this sugar scrub recipe.
What if I don't have brown sugar
Brown sugar does bring something extra to this hot chocolate sugar scrub, but if you don't have any brown sugar you can just use the white. I would throw it in a food processor and make it a little more fine.
Related: DIY Rose Oil Body Scrub
Hot Chocolate Sugar Scrub
DIY Hot Chocolate Sugar Scrub Recipe
Materials
1 cup brown sugar
½ cup white sugar
3 Tbsp. unsweetened cocoa powder
1 tsp. vanilla
½ cup coconut oil
3 vitamin e capsules
Instructions
In a medium bowl combine; brown sugar, cocoa powder, vanilla, and coconut oil.
Pierce vitamin e capsules with a pin and squeeze the contents into your mixture, stir until completely incorporated.
Store in a mason jar for quick use or air tight container for longer storage