Ever wondered how to grow lavender or what to do with lavender? Read on! Lavender is beautiful growing in your garden with its deep purple flowers and soft green stems-lining your walkway, or in containers but there are many other reasons to add some to your yard.
Related- Plants to Grow for Medicinal Tea Making
It is wonderful in recipes, crafts, and hanging in bunches around the house, repels mosquitos, and it also attracts bees and butterflies to your garden.
How to grow Lavender plants
First, make sure lavender grows well in your zone.

Spread plants out about 18" apart to allow for circulation and

Water your plant heavily and then let them almost dry out between waterings.

Lavender plants love bone meal so be sure and mix some into the soil when you plant them.

Use pea gravel or crushed shells to mulch your plants.

They love containers if you want to plant them in one just make sure that it is just a bit larger than your plants roots, they prefer a tight fit. The hot humid south is the best place for container lavender.

Wait until spring to cut back when you see new buds and growth.
Start with Lavender Seedlings
You may not know that you can grow lavender from a seedling, but you can! Most experts say you'll have better luck growing lavender if you grow it from a seedling.
When you grow it yourself, you also don't have to worry about thinning seeds yourself. Plus, you won't have any critters trying to eat the seeds or even getting a batch that is bad. Seedlings are already growing when you buy them.
Be Choosy About Your Lavender Seedlings
It's so easy to walk up to a group of seedlings and grab it. However, you will want to take your time choosing seedlings that will last. Here is what you will want to avoid.
Seedlings that are dry
Seedlings that have crumbling soil
Seedlings that have breakage
Seedlings that are yellow in color as this can be a sign of a bad plant
What soil does Lavender grow in
Lavender plants really prefer nutrient poor soil. It will grow best in well-drained soil. Adding sand to your soil mixture will help with drainage. You'll want to choose soil that isn't super wet and that has proper alkaline. A pH 6.7-7.3 is ideal.
What is the best fertilizer for Lavender
Lavender requires very little fertilizer. The only time your lavender will need to be fertilized is when growing season starts in the Spring. The best fertilizer for lavender is compost. How to compost will help you get started if you are new to composting.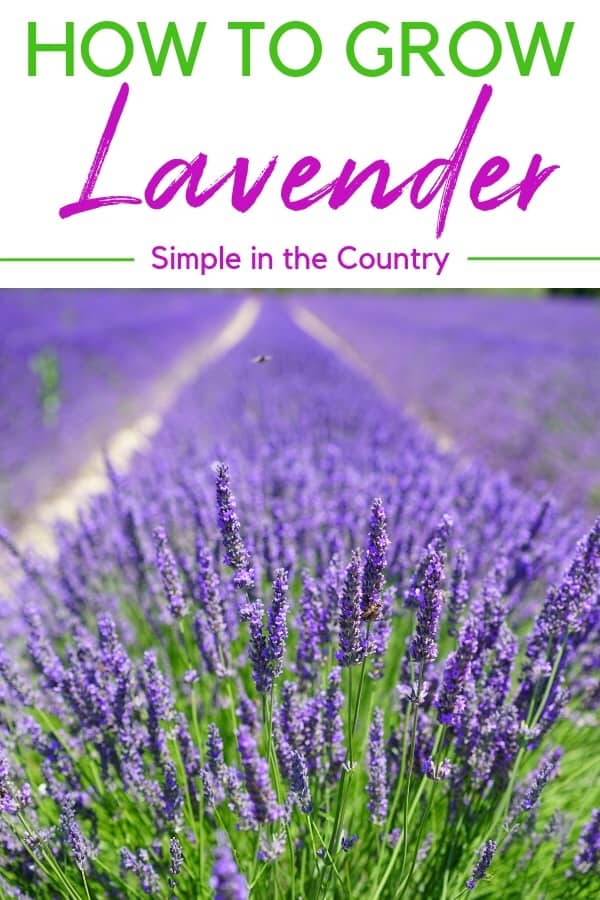 Lots of Sun is Important
Don't forget that your lavender plants will need lots of sun. In fact, tiny seedling plants should get at least 7 to 8 hours of sun a day. If it doesn't get enough sun, it may not grow to its fullest potential.
Spread Out Your Lavender Plants
Let's be honest, when you crowd your plants, nothing good comes from it. Make sure your plants have plenty of room. Spread them out! With the right amount of space, your lavender plants will bloom to be big and beautiful.
Prune Your Lavender Early
Did you know that pruning actually helps to encourage your plants to grow? Prune your plants earlier in the season! Your plant will take off and grow, grow, grow!
How to Dry Lavender
Dry lavender by cutting stems about " long, hang small bunches to dry in a cool dark place to help keep mold at bay and to preserve their beautiful color. When lavender has dried completely remove buds from stalk and store in a jar or other container with a tight-fitting lid.
How to Use Lavender
In the kitchen-Use dried lavender in your favorite lemonade recipe, sprinkle over salads, add to cocktails, crush and mix into sugar cookies and pound cake, or make a homemade tea with it. Make lavender infused sugar by layering sugar and fresh lavender until the flavor is throughout or make these Lemon Lavender Sugar Cubes
In the bathroom- Make lavender sachets from your dried flowers and tulle tied up in little ball. Mix into Epsom salts for a relaxing and detoxing bath soak. Use it to make Oatmeal Lavender Soap
Around the house- Planning a Medicinal Garden with lavender in it for making salve that is anti-inflammatory as well as calming and relaxing, sew into a little sachet for your drawers or into a little pillow for bedtime, make your own potpourri by mixing with dried rose petals, rose hips, as well as & other herbs and flowers. Mix dried lavender into a sensory bin for a fun and calming tool for the kids.
Use it in this Homemade Lavender Soap Recipe

or these
Rosemary and Lavender Crockpot Candles

Other Lavender Growing Tips to Keep in Mind
Don't over water your lavender plants.
Snip your lavender as it grows!
Lavender can be used in so many ways, don't be afraid to try new ideas.
After the season is over, you'll want to trim your plants
Don't forget that lavender promotes relaxation, reduce headaches, and a healthy feeling of well being.
Lavender works wonders and when you grow it yourself, you save a ton of money. Remember to start with seedlings and you'll have a ton of success growing those plants of yours!