The reviewer has been compensated in the form of a Best Buy Gift Card and/or received the product/service at a reduced price or for free
I never thought that I would be the type of person to get excited about new appliances, or even doing chores. However, when I read about the LG Twin Wash and LG Sidekick at Best Buy I actually got giddy laundry.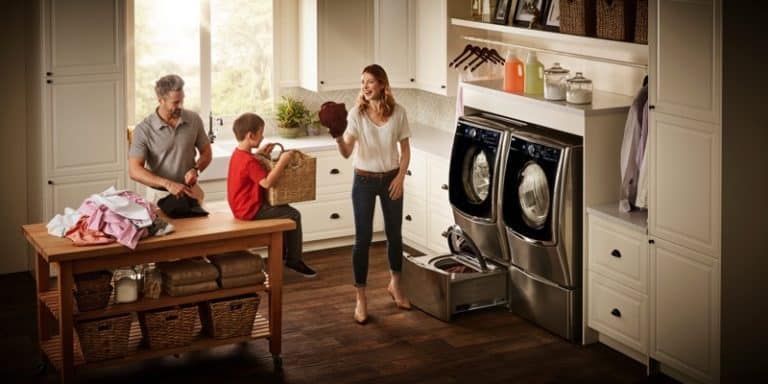 LG Sidekick is a true sidekick
One of my favorite features about the LG Twin Wash is the fact that you can wash smaller loads of laundry at the same time that you wash a regular load. The 1.0 cubic foot capacity is the perfect size for all of my miniature loads, such as delicate unmentionables.
Your favorite outfit that you forgot was dirty, and even the kid's jerseys, when they fail to mention they have a game the next day. It is nice knowing that you would not have to fill up the extra large capacity washer, when you only have a handful of clothes to wash. Plus, the LG Sidekick is the same height as the pedestal on the LG dryer, so it brings the washer up to the same height as the dryer!
Magnetic Remote Control
So, this is going to make me sound completely lazy, but I also love the remote control that comes with the machine! First of all, it is magnetic, so I do not have to worry about losing it. It just attaches it each time you are finished with it. If you want to wait to start the load until the dishwasher is done, you simply just take the remote to the couch with you. As soon as you hear the dishwasher shut off, you can totally turn the washer on from the couch!
Laundry is life changing
I never thought I'd get excited about doing laundry, but I totally could. We're in a day and age where laundry shouldn't be hard. The LG Twin Wash and Sidekick would make my life easier. There are so many other things that I can be busy doing, laundry shouldn't be one of them.
It is no wonder LG's energy efficient twin wash system is popping up in laundry rooms everywhere. This set is amazing, and has made want a set! Want to save a little money and change your laundry life forever? From 1/11-4/25 receive up to $500 off a LG laundry solution for your home. Head over to Best Buy and check out the LG Twin Wash and LG Sidekick now!