When researching ingredients for my soap recipes I realize that oatmeal and honey are perfect add ins. This Oatmeal Honey Soap Recipe smells really good and works well for all the skin types in our home.
Related- Whipped Soap with Lavender and Calendula
Benefits of Oatmeal in Soap:
Relieves itching and irritation in your skin.
Gently exfoliates your skin naturally.
Moisturizes your skin.
Oatmeal has anti bacterial and anti inflammatory properties.
Benefits of Honey in Soap:
Honey has antibacterial properties.
Antioxidant that helps repair sun damaged skin.
Helps add lather to your soap.
Related- Homemade Lavender Soap

Oatmeal Honey Soap Recipe

What do you need to make Honey Oatmeal Soap
Supplies Needed:
White melt and pour soap block
2 tablespoons old fashioned oats
1 teaspoon honey
1/2 teaspoon vitamin E oil
Spray bottle of rubbing alcohol
Square soap molds
Glass measuring cup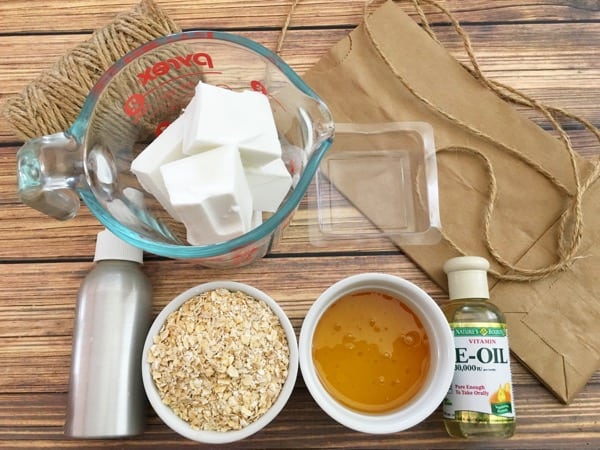 Related- Pumpkin Spice Loofah Soap
How to make Oatmeal Honey Soap
1. Cut about 8-10 ice cube sizes blocks off your soap block and place into a glass measuring cup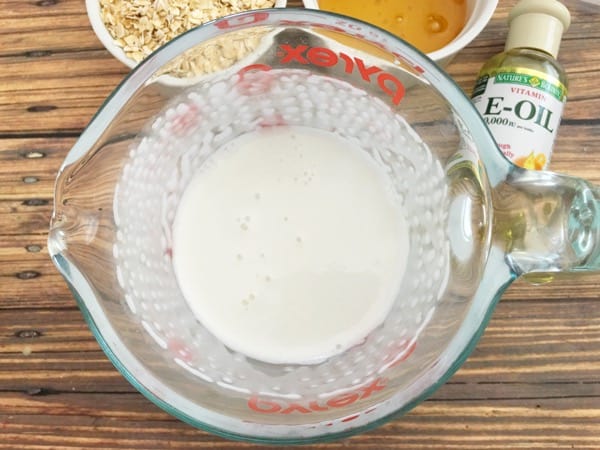 2. Microwave for 1-2 minutes, stirring every 30 seconds until melted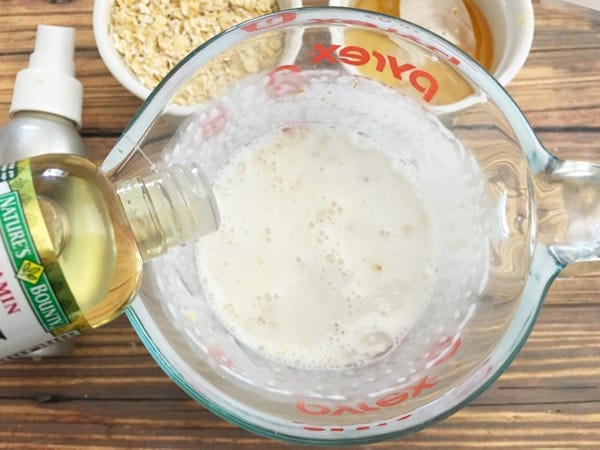 3. Mix in your oats, honey and vitamin E oil
Related: Oatmeal Cookie Sugar Scrub
4. Pour your soap into your molds and spray with rubbing alcohol to prevent any surface bubbling.
Related- Homemade Oatmeal Lavender Soap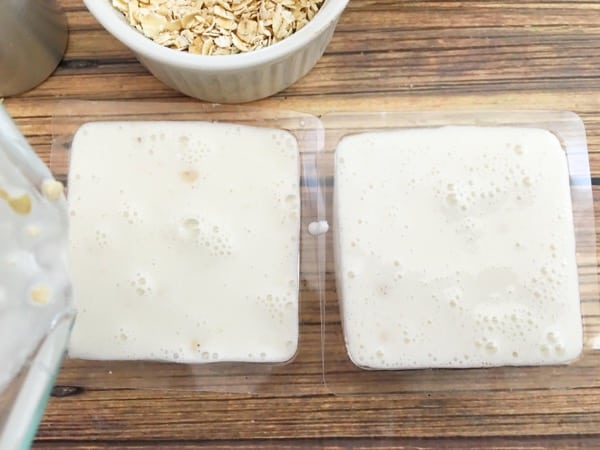 5. Freeze for about 45 minutes or until no longer warm
6. Stretch the sides of the mold and carefully press up on the bottom to remove your soaps
Wrap your soaps if you are giving them as gifts I used brown paper and twine. Burlap would be pretty too but use anything you have. If you are keeping them for your family you can wrap them or store them in an air tight container.
Oatmeal Honey Soap
Oatmeal Honey Soap Recipe
Additional Time
50 minutes
Total Time
1 hour
5 minutes
Materials
2 tablespoons old fashioned oats
Spray bottle of rubbing alcohol
Instructions
Cut about 8-10 ice cube sizes blocks off your soap block and place into a glass measuring cup
Microwave for 1-2 minutes, stirring every 30 seconds until melted
Mix in your oats, honey and vitamin E oil
Pour your soap into your molds and spray with rubbing alcohol to prevent any surface bubbling
Freeze for about 45 minutes or until no longer warm
Stretch the sides of the mold and carefully press up on the bottom to remove your soaps