Reuben sliders on Hawaiian rolls are the perfect size no matter if you are feeding a crowd or just the family. This recipe is a great way to use up leftover beef brisket or just cook up some brisket for these sliders.
Related: Philly Cheesesteak Grilled Cheese
What do you need to make Reuben Sliders on Hawaiian rolls
2-3 pound corned beef brisket with seasoning packet and a few bay leaves, covered with water and cooked 2-3 hours in a large dutch simmering (covered), on medium/high heat OR 5-6 hours on high in a crockpot. Remove and shred once the brisket is cooked through.
Thousand Island dressing, any brand ( I used Ken's Steak House)
2-3 12 ct. packages of Hawaiian Rolls
1 large jar of sauerkraut, any brand ( I used Vlasic), drained and rinsed thoroughly
swiss cheese
melted butter (optional)
How to make Reuben sliders
1. Preheat the oven to 350 degrees.
2. Slice the hawaiian rolls in half and generously spread Thousand Island dressing on each bottom and line an 8x13 baking sheet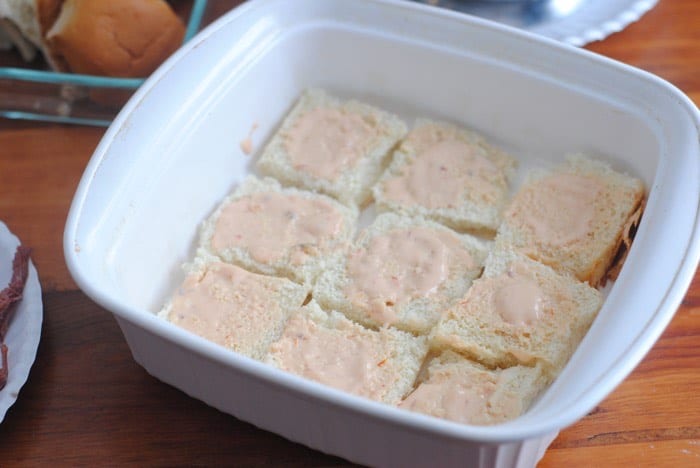 3. Top with shredded corned beef
4. Top with sour kraut
5. Top with swiss cheese
6. Generously spread more Thousand Island on the top half of the rolls and place on top of the bottoms. brush melted butter over the tops of the rolls (optional). Cover with foil.
7. Bake about 20 minutes to heat through and melt the swiss cheese. Serve with more Thousand Island dressing.
Related- Pressure Cooker Beef Stew Recipe

What to serve with Reuben sliders
When it comes deciding what to serve with Reuben sliders, potatoes in any form are a great option. Add some chips and a pickle and you have the perfect sides for your Reuben sliders.
You could serve a soup with your Reubens, like onion soup or serve up a simple side salad to round out your meal.