Ya'll...Listen, I love me some sweet tea. Put it in a mason jar and somehow it just tastes even better. Sooooo, y'all know Sweet Tea Sugar Scrub had to happen! Try even more simple sugar scrub recipes.
I'm pretty sure every self-respecting southern girl loves sweet iced tea. (Just kidding...maybe) I happen to love getting my hands into some homemade beauty products, especially scrubs.
There is nothing like the smooth, soft skin you get after a good exfoliating scrub in the shower.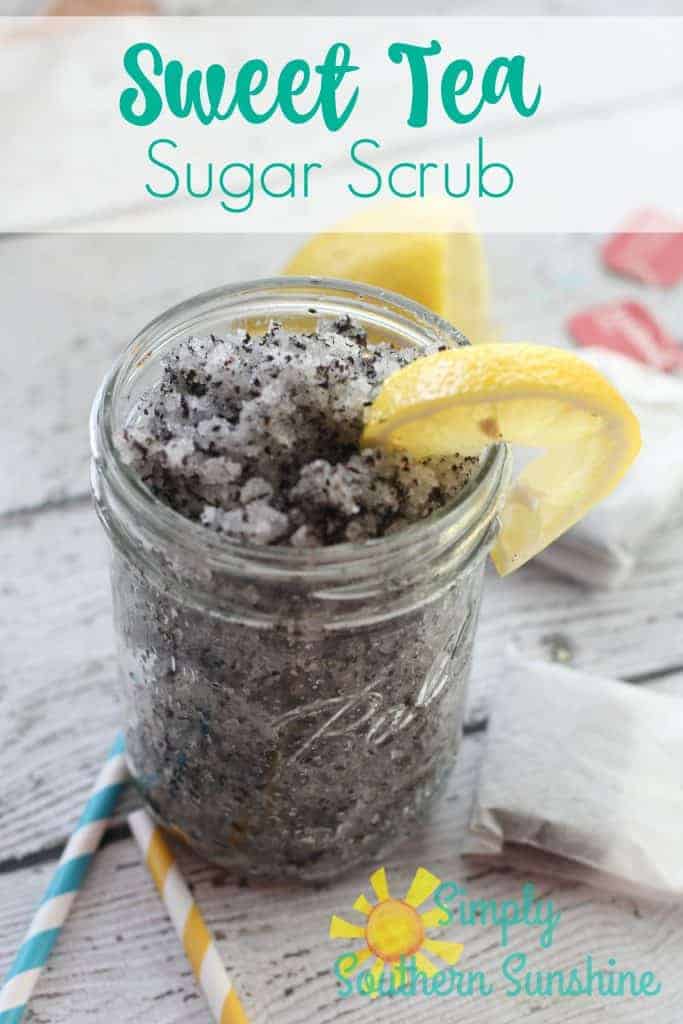 So I was messing around in kitchen and wanted a new scrub, something I had not seen before. I always store mine in mason jars so as I was looking at it I thought why couldn't I make an inspired by tea sugar scrub?
It is perfect for summer ladies and I am sure though he won't admit it the hubby will be dipping into this concoction too.
Wanna make some for yourself?  I bet you already have everything you need on hand so let's get started.
Sweet Tea Sugar Scrub
3-4  family size tea bags,
1 1/2 cups sugar
1/2 cup coconut oil
1/2 lemon
1 pint Mason Jars
So all you need is just those 4 ingredients, but if you are going to store for long you might want to add a couple capsules of vitamin E-this acts as a natural preservative and will give you a much longer shelf life.
Begin by combining sugar, oil, and tea. Squeeze half a lemon into your mixture.
Stir well, add more coconut oil if you like your scrub a little looser. I prefer a good rough texture for maximum exfoliation.
You can also add a few drops of  lemon essential oil to boost the scent but I found this smells just like a glass of sweet tea on its own.
Related: Hot Chocolate Sugar Scrub
Ya'll seriously, this sweet tea sugar scrub smells sooooo good and makes your skin soft and smooth!
Here are a few other diy beauty products you might like as well...