Proverbs 22:6 tells us to "Train up a child in the way he should go and when he is old he will not depart from it." The hard part in parenting isn't knowing what you should be doing; it's knowing how to do it. We know we should be training up our kids God's way, but how exactly do we do that? Here's some insight on how to train your child in the way they should go: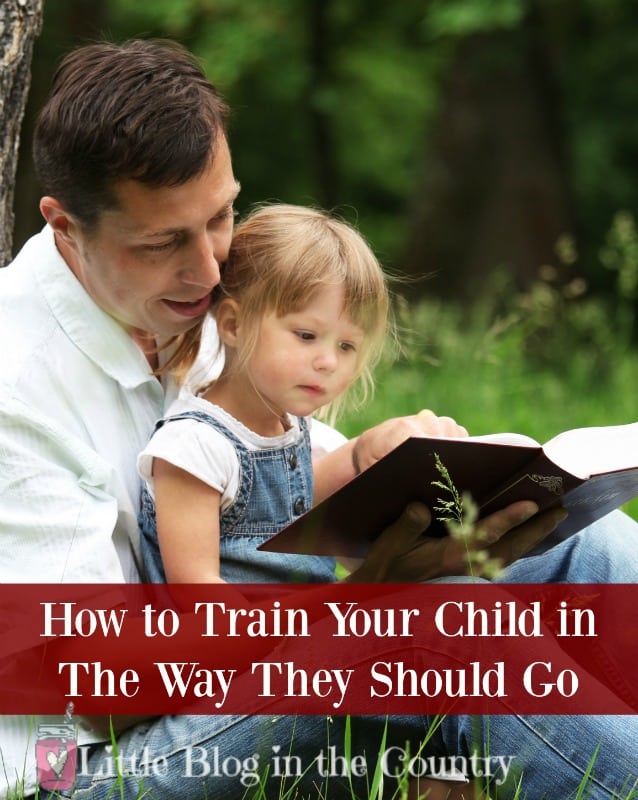 How to Train your Child in the Way They Should Go
Show them that they are a Reward:
Many parents treat their children as more of a curse than a blessing. Yes, kids are hard and with the struggles of this world, you may start to wonder why you even had children. This, however, isn't how God treats us. The Bible tells us in Psalm 127:3 "Behold, children are a heritage from the Lord, the fruit of the womb a reward." Show them love and show them how blessed you are to have them.
Model Christ in your Actions:
When Christ came down to Earth, he didn't just tell everyone how they should live their life. He got down and washed people's feet! As parents, I am sure we have all washed our kid's feet, but the God of the universe didn't have to do that and yet he did. He not only told us how we should live, but he modeled it in his life. Show your kids the way to live through your actions, not just your words. For your children will do what you do not what you say.
Teach them the Truth of Scripture:
How can a child learn and know how to live in this life if it isn't instilled in their conscience? Practice training your children in the way they should go by spending time each day talking about the Bible, reading the bible, and learning about God. For 2 Timothy 3:15 tells us "and how from childhood you have been acquainted with the sacred writings, which are able to make you wise for salvation through faith in Christ Jesus."
Discipline Justly:
What does this mean? God disciplines his children to teach them, to protect them, and to make them better every day. We don't want to discourage our children by disciplining in anger or frustration. This is a tough one because kids sometimes find a way to push you over that edge. However, when we don't explain the consequences and discipline justly, we cause out children to rebel. This is why Ephesians 6:4 says, "Fathers do not provoke your children to anger by the way you treat them. Rather bring them up with the discipline and instruction that comes from the Lord."
Let them Learn Life Lessons:
Sometimes Life consequences are more severe than any parent could give. Much like the Prodigal son, we are to allow our children to face consequences even if we don't want them too, but we must be willing to take them back with open arms just as our father does. It may be hard to watch your child learn a hard lesson, but allowing them to go through it makes them responsible for their actions. All actions have consequences whether good or bad, and we must teach this to our children.
Being a parent isn't always easy, and you may not always know what to do. When in doubt, pray without ceasing and give it to God daily.  He will show us how to train up our children in the way they should go.
Here's a few more posts you may be interested in.
Tips for Establishing a Family Bible Study Routine
5 Tips to Get Your Child Interested in the Bible