This Orange Cranberry Sugar Scrub is pretty, smells fantastic, and is wonderful for your skin. But it's not just good for your own at home treatments, it makes a fantastic gift for a welcoming hostess, tired teacher, helpful neighbor, or anyone else who would enjoy a little treatment. It's one of the best simple sugar scrub recipes to try.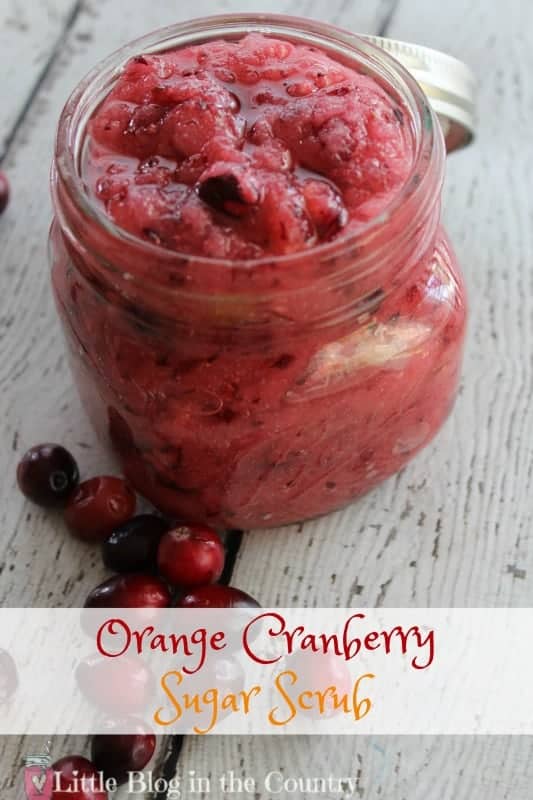 Orange Cranberry Sugar Scrub
Let's get started making this yummy scrub that will make winter skin soft and moisturized while whisking away old skin!
You will need:
1/2 to 3/4 cup melted coconut oil
1 1/2 cups granulated sugar
1/2 cup fresh cranberries
2 tsp. vanilla extract
8-10 drops wild orange essential oil
you will also need- a mixing bowl, wooden spoon , and jar with a lid.
Cranberry Skin Benefits
Cranberries have anti-inflammatory, anti-viral properties, and antioxidants. This helps treat blemishes.
Cranberries also help with collagen production. Which helps keep skin firm.
Orange essential oil benefits
Orange essential oil is a great mood lifter. It also has anti-inflammatory, antioxidant, antiseptic properties. Other Orange Essential Oil benefits
How do you make Orange Cranberry sugar scrub
Mash cranberries with a potato masher, or toss them in a food processor to your desired texture.
Mix together cranberries, sugar, coconut oil, essential oil, and vanilla extract until well combined and evenly distributed.
Related: Hot Chocolate Sugar Scrub
How to store this homemade Orange Cranberry sugar scrub
Transfer the sugar scrub mixture to a jar with a tight-fitting lid. quart mason jars are ideal for body scrubs, or use a pint size to make more smaller ones for gifting. Calendula bath bombs make a great gift too.
How to use Orange Cranberry sugar scrub
Slather a generous palm full of this homemade sugar scrub onto wet skin, scrub well, paying extra attention to any dry rough spots. Rinse completely and pat skin dry rather than rubbing with a towel . Apply a light moisturizer and see how much better your winter skin feels!
Can I use a different brand of essential oil or different scent
Yes, you can use your favorite brand. I'm currently using up leftover oils and buying my new oils from Plant Therapy. Just make sure that you use a high quality oil.
If you don't have orange or don't like orange, you can use another scent. Lemon might be nice to try in this recipe.
Can I use frozen cranberries sugar scrub
Yes, you can definitely use frozen cranberries. Allow cranberries to thaw and then mash or process.
Yield: 1 jar
Cranberry Orange Sugar Scrub
Cranberry Orange Scrub smells good and is so good for your skin.
Materials
1/2 to 3/4 cup melted coconut oil
1 1/2 cups granulated sugar
1/2 cup fresh cranberries
2 tsp. vanilla extract
8-10 drops wild orange essential oil
Tools
mixing bowl
wooden spoon
jar with a lid
Instructions
Mash Cranberries
Mix together cranberries, sugar, coconut oil, essential oil, and vanilla extract until well combined and evenly distributed
Transfer the sugar scrub mixture to a jar with a tight-fitting lid