I make homemade beauty recipes, like this Oatmeal Cookie Brown Sugar Scrub often for several reasons- I am a busy mom on a budget and I don't have the time or the money for expensive spa treatments and I like simple sugar scrub recipes.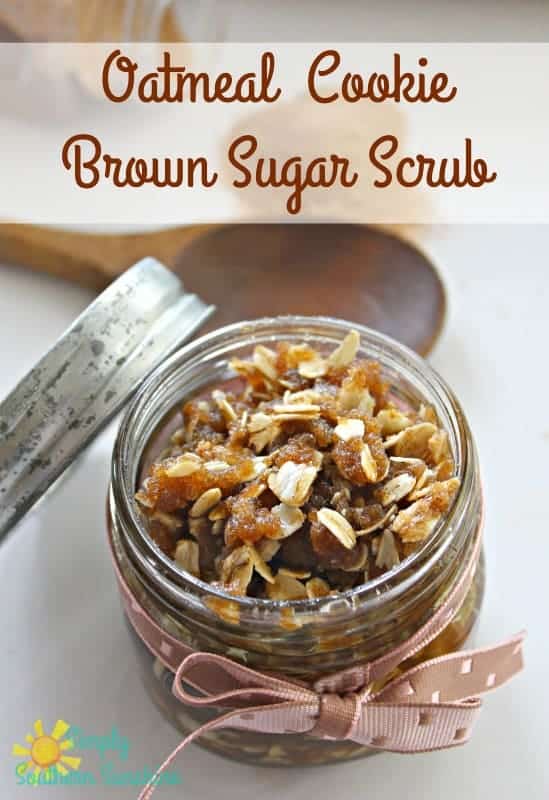 Luckily, with some experimenting I have found many that I can do at home for very little cost, and they are just as good or better because you don't have to worry about the added chemicals.
Oatmeal Cookie Brown Sugar Scrub
Supplies:
1 1/2 cups brown sugar
1/2 cup melted coconut oil
1/2 cup oatmeal
2 tsp. ground cinnamon
1 tsp. ground nutmeg
2 tsp. vanilla extract
122 tsp. butter extract
Related- Sweet Tea Sugar Scrub
Directions:
Combine all ingredients in a large bowl and transfer to a jar with a tight fitting lid. If you prefer you can pulse the oatmeal for a bit in blender to make the flakes smaller .
Now your Oatmeal Cookie Brown Sugar Scrub is ready to use. It smells just like fresh baked oatmeal cookies. While it is safe to eat, I wouldn't recommend it.😉
I put my sugar scrub in this little container that I found at Target in the dollar spot.
Related- Bergamot and Tangerine Sea Salt

To use: Apply a generous handful of your oatmeal brown sugar scrub to wet elbows, feet, shoulders, or anywhere else that can use a good exfoliating treatment. Scrub vigorously, rinse well, and pat skin dry. I find I don't usually even need a moisturizer after.
Related- Hot Chocolate Sugar Scrub