These Vicks and Essential Oil Shower Bombs can make that welcome hot shower even better! Loaded up with essential oils that help loosen it up and let you breathe better.
Related- Kids Calming DIY Bath Bombs

Summer cold, winter cold, allergies, flu...whatever it is that has you all congested and miserable it could definitely use some extra help clearing it up.  Beyond tissues, saline spray, antihistamines, etc.. sometimes you need a little "extra".
Use this Vicks and Essential Oil Shower Bombs DIY will help you combat stuffy heads, noses, and chests.
Vicks and Essential Oil Shower Bombs DIY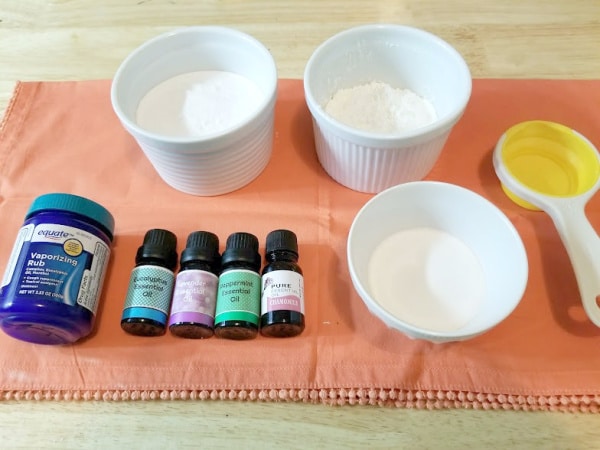 Ingredients:
1 cup baking soda
1/2 cup cornstarch
1/2 cup citric acid
1-2tablespoons rubbing alcohol
1 tablespoon vapor rub
5-10 drops lavender essential oil
5-10 drops eucalyptus essential oil
5-10 drops chamomile essential oil
5-10 drops peppermint essential oil
Soap colorant or Mica powder (if desired, but not a must)
Bath bomb molds, ice cube tray or soap mold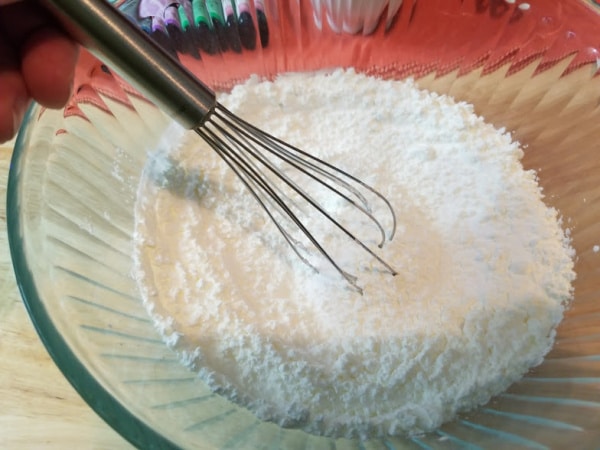 Directions
1. In a glass bowl, add baking soda, cornstarch and citric acid.
2. Mix dry ingredients together.
3. Slowly add alcohol to mixture. I suggest adding one tablespoon at a time and mixing after each is added to see if more is needed.
4. When mixture hold together in your hands as in the photo, it is done. If it does not, add a bit more alcohol until it does.
5. Add vapor rub

6. Add essential oils

Related- Vaporub Shower Bombs Using Essential Oils
7. Add coloring if you choose to add coloring.
8. Mix together well. I use a hand mixer, but you can use a wooden spoon or whisk.
9. Add mixture to mold of your choice.
**Be sure not to touch your mouth or eyes until you have finished this step and washed your hands or that vapor rub will sting!

Related-DIY Vapor Shower Melts

10. Allow to harden overnight.
To use: Add one Vicks and Essential Oil Shower Bomb to shower to relief sinus pressure or stuffy nose.
Keep in a container with a tight fitting lid away from moisture until ready to use.
Vicks and Essential Oil Shower Bombs
Vicks and Essential Oils Shower Bombs
Total Time
12 hours
25 minutes
Materials
1 cup baking soda
1/2 cup cornstarch
1-2 tablespoons of rubbing alcohol
1 tablespoon vapor rub
Instructions
In a glass bowl, add baking soda, cornstarch and citric acid.
Mix dry ingredients together.
Slowly add rubbing alcohol to themixture. I suggest adding one tablespoon at a time and mixing after each is added to see if more is needed
When mixture hold together in your hands. If it does not, add a bit more alcohol until it does.
Add vapor rub
Add Essential Oils
Add coloring if you choose to add coloring
Mix together well. I use a hand mixer, but you can use a wooden spoon or whisk.
Add mixture to mold of your choice.
Allow to harden overnight. Store in an airtight container