Strawberry Cobbler with fresh strawberries is on my mind as soon as strawberry season hits. I'll be at the store or the farmers market picking up basket after basket of one of my favorite fruits.  I am looking for color, plumpness, and that fragrant smell when I want great strawberries. While they are fantastic on their own I really love to use them in comfort food recipes for when I want something a little sweet. Cake mix makes a simple and tasting cobbler topping when combined with a few other ingredients and you get a taste and texture that is half strawberry shortcake half cobbler and all delicious!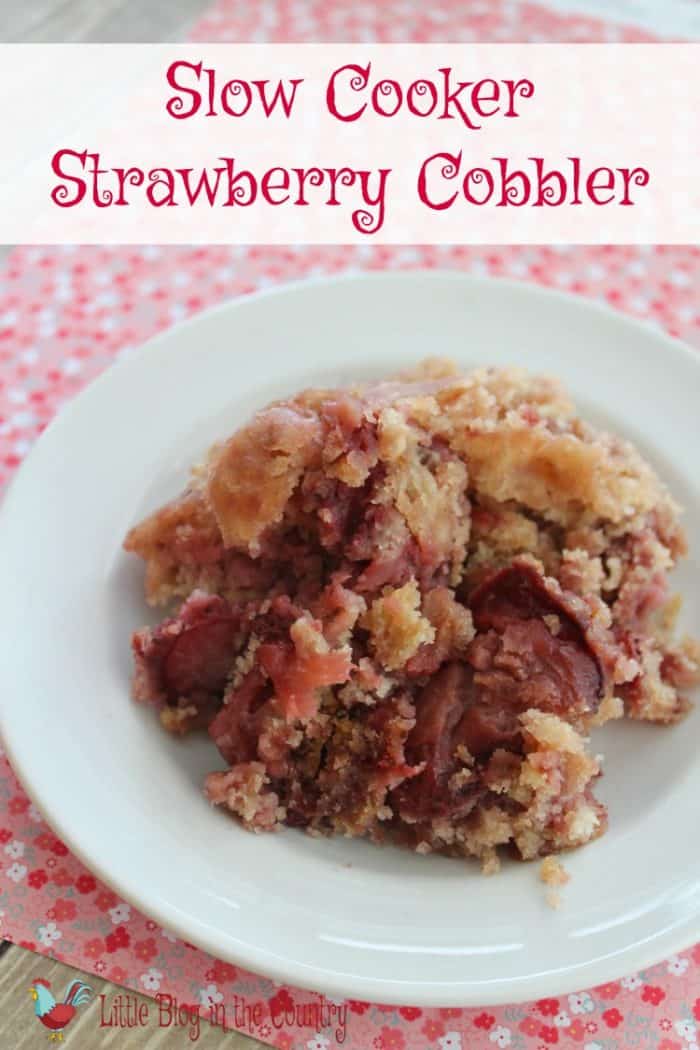 Strawberry Cobbler
Ingredients:
1 box vanilla cake mix
1/2 cup milk
1 stick butter
2 lbs. fresh strawberries
1 T. granulated sugar
1/4 tsp. of cinnamon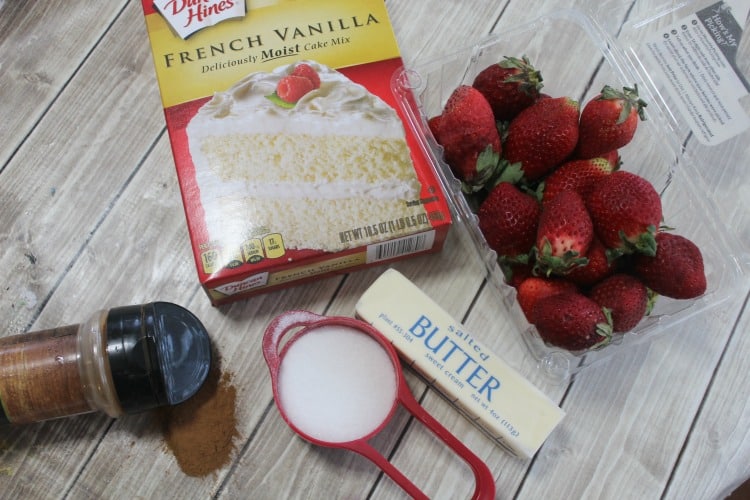 Directions for Strawberry Cobbler
Spray slow cooker inside with non stick cooking spray well.
Wash, drain, and slice strawberries. Place inside prepared slow cooker insert.
Sprinkle with sugar.
Sprinkle cake mix all over the top to cover strawberries evenly.
Sprinkle cinnamon over cake mix.Dice up cold butter and
Dice up cold butter and  spread over the top of your mix.
Add milk to the top and use a spoon to lightly mix the surface and get some of your milk incorporated.
Cover and bake on high for 2 1/2 hours.
Crack the lid to allow steam to escape so your topping is not soggy and cook for another 30 minutes.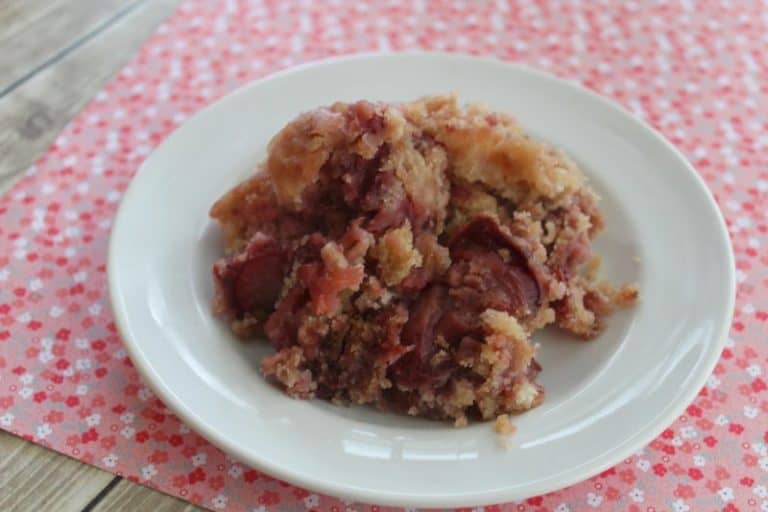 Serve as is or top with ice cream or whipped cream.
If cobblers are your thing check out this other tasty post, Pecan Pie Cobbler.
Strawberry Cobbler in the Slow Cooker
Strawberry Cobbler made with cake mix in the Slow Cooker
1 box vanilla cake mix
1/2 cup milk
1 stick butter
2 lbs . fresh strawberries
1 T . granulated sugar
1/4 tsp . of cinnamon
Spray slow cooker inside with non stick cooking spray well.
Wash, drain, and slice strawberries. Place inside prepared slow cooker insert.
Sprinkle with sugar.
Sprinkle cake mix all over the top to cover strawberries evenly.
Sprinkle cinnamon over cake mix.Dice up cold butter and
Dice up cold butter and spread over the top of your mix.
Add milk to the top and use a spoon to lightly mix the surface and get some of your milk incorporated.
Cover and bake on high for 2 1/2 hours.
Crack the lid to allow steam to escape so your topping is not soggy and cook for another 30 minutes.
Serve as is or top with ice cream or whipped cream