Is learning how to make diy bath bombs at home one of the skills on your want to learn list? A simple bath bombs recipe or two will have you mastering the skill of homemade bath bombs in no time.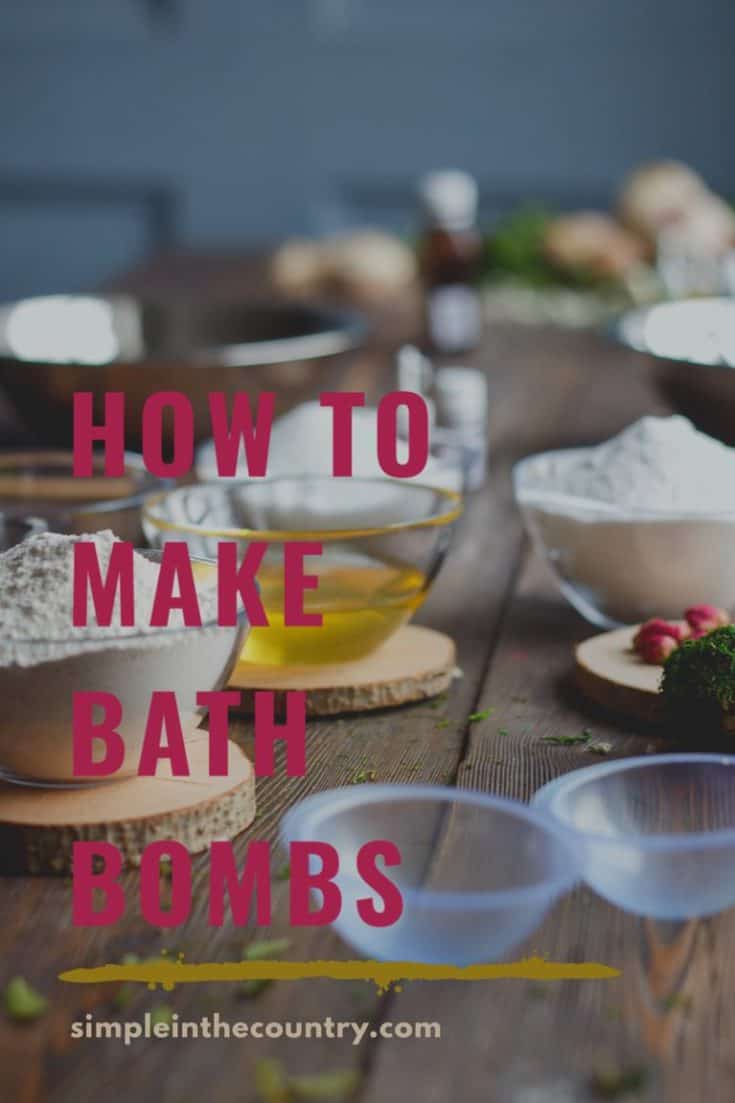 How to make homemade bath bombs
Learning how to DIY your own bath bombs is another way to become less reliant on stores and more self reliant.
Homemade Bath Bomb Benefits
Homemade bath bomb benefits starts with knowing exactly what is in your bath bomb recipe. Bath bombs can help soothe, moisturize, and soften dry skin. Adding essential oils can help relax your mind.
Bath Bomb ingredients
There are several different bath bomb ingredients that can be use. These are the most common.
baking soda
citric acid
epsom salt
favorite carrier oil
witch hazel which is best for fizzy bath bombs or water
colorant
scent

Dried flowers for bath bombs
Adding dried flowers in bath bomb recipes is a great way to add color and has added benefits from the dried flower you are using.
Best carrier for bath bombs
Here are a few of the best carrier oils for bath bombs. Carrier oils not only help shape your bath bombs, they have added skin benefits.
When do you put in bath bombs
Figuring out when to put in bath bombs is really a matter of preference. I did figure out that adding your bath bomb once your tub is half full, helps you keep your bath bomb from sinking. Adding your homemade bath bomb while the tub is still filling helps to distribute your bath bomb ingredients throughout the water.
How to store bath bombs
Knowing how to store bath bombs is really important. The way they are stored really affect how long they will last. Make sure to store them in an airtight container in cool place.
Only keep one or two in the bathroom, as it's really humid and can cause your shower bombs to crumble.
How long do bath bombs last
Finding out how long do bath bombs last around here is never an option. If you are able to horde your bath bombs, you will want to use them 3-4 months for best results.
Bath bomb problems
My bath bombs are crumbling
If your homemade bath bombs are crumbling it's probably because your bath bombs didn't get molded tight enough. If they aren't packed tightly into the mold, they will tend to crumble and crack. If that happens try adding more of your liquid to dampen your mixture and then let them sit again to dry.
My bath bombs are cracking
Bath bombs cracking after you have them out of the mold? It's probably too wet. Using witch hazel, instead of water helps with cracking. It's still important to really pay attention to the amount of moisture you are.
My bath bombs are too soft
If your bath bombs are too soft, it's usually because they are too wet. Too much liquid in your bath bombs will make them too soft to mold. Try adding more baking soda or add a little kaolin clay to help your bath bombs hold their shape.
What to do with failed bath bombs
Trying to figure out what to do with failed bath bombs? It's as simple as crushing up your failed ones and adding them into other mixtures.
I know some people have been able to crumble and redo the failed ones. That's never been me. My mess ups are always past the point of no return.
Can bath bombs stain your tub
Most of the time very little is left behind from your bath bomb. A quick rinse of the tub will wash away any left over coloring that might leave a ring around your tub.
Are homemade bath bombs safe for septic tanks
Is the question are homemade bath bombs safe for septic tanks holding you back from making your own diy bath bombs? The answer is yes.
Most diy bath bombs are made with natural ingredients and are perfectly safe for septic systems.
Can bath bombs be used in the shower
No tub for your bath bombs? You can definitely use your bath bomb in the shower. If you are able to use a sackcloth or cheesecloth bag, add you shower bomb to it and tie it around your shower head.
Water will run down on the shower bomb causing it to dissolve and run down on you. Standing under the shower still gives you skin benefits that are in your shower bombs.
DIY Bath Bombs
DIY Shower Bombs
Shower bombs are best used strictly in the shower. Shower bombs are usually more concentrated with essential oils and are used more for scent than for skin benefits.